Quintessential Asheville Itinerary:
8 am: Drive into Asheville via the Blue Ridge parkway – exiting the parkway at Milemarker 393 for the NC Arboretum – which is beautiful and worth a visit if you have time (see this post here). If you're too hungry to stop, follow Brevard Road/NC 191 about 6 miles north into West Asheville – the hippest part of town.
9am: Stop for breakfast at Sunny Point Cafe (626 Haywood Road) or Biscuithead (733 Haywood Road) – they are both top breakfast spots in town.
11am: After breakfast follow Haywood Road east and head to the River Arts District. Pick up a River Arts District studio guide at any of the buildings in RAD and explore! Don't forget to take pics – both West Asheville and the River Arts district are full of #Instaworthy murals. Tag @travlavl so we can see your adventures!
1pm – Once you've worked up an appetite have lunch at the new location of 12 Bones Smokehouse (5 Foundry Street), or White Duck Taco Shop (in the hatchery building at 1 Roberts Street). After lunch grab a beer at Wedge Brewing Company (37 Paynes Way) then head on up Clingman Avenue Extension toward Downtown Asheville.
3pm – There are so many things to do in Asheville, but we only have a day!
If you feel like walking: Park at the Visitor's Center (36 Montford Avenue): you can park for free and get loads of advice and ideas for your visit inside of the Visitor's Center (plus clean bathrooms). Then walk across the bridge into town (or you can drive into town and park at one of the many parking Garages – the city garages are free for the first hour, then $1.25 every hour after). If you're walking from the visitors center, turn left onto Haywood Street after crossing the bridge, then turn right onto O.Henry Avenue to get to The Grove Arcade – one of America's first indoor shopping malls built in the 1920s. Stroll through this beautiful building and make sure to stop at the Battery Park Book Exchange and Champagne Bar, a beautiful two-story used bookstore full of nooks and crannies to sit and relax while sipping some bubbly.
Close to the Grove Arcade on 97 Haywood Street is the Basilica of St. Lawrence, designed and built in 1905 by the famous Spanish architect Raphael Guastavino who also worked on the Biltmore Estate. The Basilica houses the largest freestanding elliptical dome in North America, and it was constructed until Guastavino's patented interlocking tile system.
Nearby, at 55 Haywood Street, make sure to stop by Malaprops Bookstore, the nationally known local bookstore, then the Woolworth Walk (25 Haywood Street), which features 170 local artists in a 20,000 square foot space, and even has an old-fashioned soda fountain where you can get a banana split or fried bologna sandwich.
Don't feel like walking? Take the LaZoom Tour! This 90 minute comedy tour aboard a purple bus will show you all around Asheville and get you laughing. The tour departs from their popup bar called the LaZoom Room that is only open through late 2017 at 76 Biltmore Avenue.
6pm – There are so many amazing restaurants in Asheville, but I'm trying to keep it simple: Cúrate, world-renown chef Katie Button's Spanish Tapas restaurant (13 Biltmore Avenue), and Tupelo Honey (12 College Street), is so popular it now has locations in multiple cities.
After dinner visit French Broad Chocolate Lounge (10 S. Pack Square), or Old Europe Pastries, Asheville's oldest coffee shop (13 Broadway Street), for dessert.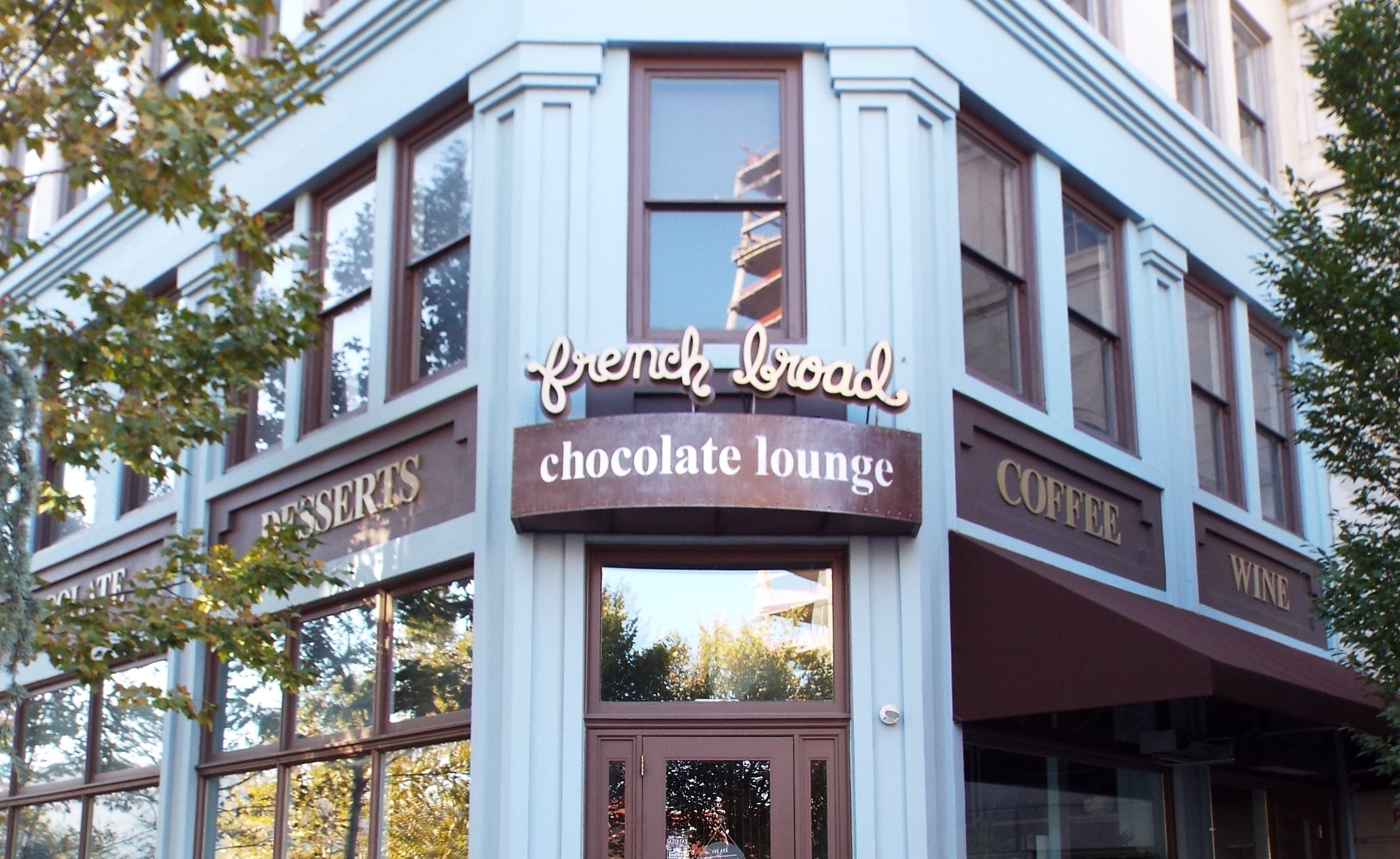 Then, if you're not tired, go experience some music at the Orange Peel or Jack of the Wood
Or, hit the hay! Start early in the morning and visit the Biltmore Estate – it will take the whole day and a whole other post…
Now – what did I miss? What would you do on your Quintessential Day in Asheville?